Name: mandy
LJ user name: supergrrlie
Email: boolover32@aol.com
Age: nineteen
Birthday: may 18, 1985
Body type: i'm very curvy and pear shaped. 18/20 in most tops and bottoms, depending on the cut and style.
Hair Color: reddish-brown with a black patch in the middle.
Eye Color: dark brown
Skin type (oily, dry, combo, acne prone.etc...): oily
Interests/hobbies: i love reading and writing, listening to music, being on the computer, crafting and art, dolphins and volunteering. shopping (thrifting especially) is great, and i'm always looking for cool polka dotted things.
Beauty products you cant live with out: lipgloss, powder, mascara, shimmery eyeshadow and black stick eyeliner.
Beauty products we would most likely find in your trash can: liquid eyeliner, foundation, dark lipliners, overly glittery products and blush sticks.
Scents you like: raspberry, peach, apple, mango and passion fruit and roses. i like lighter smells and jovan musk.
Scents you dont: nothing too overpowering or fancy. i'm into simple smells.
Color preferences for -
Foundations- beiges and olive tones.
Blushes- bronzes and pinks.
Nails- bright pinks and reds or shimmery colors.
Lips- pinks, browns and reds.
Eyes- bright, shimmery or deep.
Allergic to any thing your partner should know? nothing that "girly" things should bring.
Would you prefer smaller packages more often or larger packages with more time in between? i'm not picky at all.
Do you insist on NEW stuff, or is it okay if your partner buys something and doesnt like it too well, but thinks you will and sends it to you? it doesn't matter to me.
Is it okay if your partner is from another country? sure, that would be fun!
Anything else you want to add? even if you don't want to be my exchange buddy, feel free to add me to your friends list and i'll add back. i'm fun and magnetic and i love getting and sending mail! this could be so fun to send and recieve such different things!
here's a picture of me so that you can see what you're working with. :)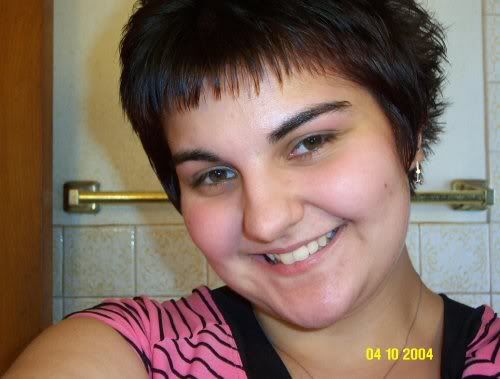 <3, mandy